How To Use Macaron Mats To Create The Perfect Macarons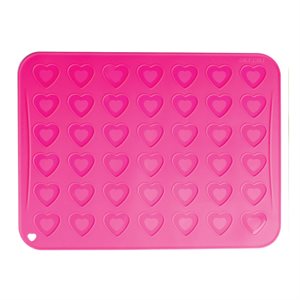 Everyone loves a good macaron due to its delectable taste and high visual appeal. With so much flavor packed into colorful bite sized goodness, it makes sense why macarons are such popular desserts. If you have been wondering what the best way is to create these scrumptious treats, the answer can be offered in just two words – macaron mats. Macaron mats are silicone mats that have been specifically made for the creation of macarons. Learning how to use them properly guarantees that you will have uniform, perfectly shaped macarons each and every time.
Mix your macaron dough
The first step to making macarons is assembling your standard ingredients for your macaron mixture. This mixture may vary depending on what recipe you follow. The standard ingredients needed for great macarons include 2 to 3 drops of gel food coloring, 3 large, room temperature egg whites, 1/4 teaspoon cream of tartar, 1/4 cup superfine sugar, 1/2 teaspoon of vanilla, a pinch of salt, and 1 cup of almond flour. Once this mixture is ready to go, it should be placed into a piping bag to make using the macaron mats as simple as possible.
Piping your macarons
Using macaron mats is by far one of the simplest ways to make macarons. Since you will want to get perfect circles, the macaron mats are the way to go since the circles are already outlined for you. From experience making macarons using macaron mats, bakers will tell you to make sure that you pipe directly in the middle. If not, the extra batter will spill over the sides creating oval shaped macarons which don't have the visual perfection you are going for.
Ultimately with practice, bakers of all experience levels can enjoy creating beautifully uniform macarons that stand out and truly wow the crowd.
At NYCake.com, we offer a wide range of different baking supplies including silicone macaron mats. Place your order with us online and enjoy the highest quality baking supplies available at http://www.nycake.com. You can also pay a visit them on Facebook.