4 Things to Note Before You Go Ahead with Your Tablecloth Shopping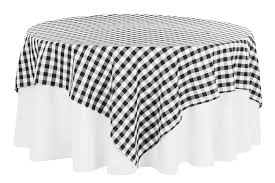 The right tablecloth can be a charming addition to your kitchen table. Here are buying considerations to factor in, though, before you make your choice:
Ambiance
What's the vibe and style of your home? What kind of ambiance do you want your living space to give off? Do you want something rustic and traditional or something cozy and feminine? By deciding on the kind of atmosphere you want for your home, you'll have an easier time picking out which tablecloths will hit the mark for you, says the Pioneer Woman.
Budget
How much is your budget? You don't have to have to go for luxury tablecloths when plenty of durable, cost-effective and tasteful designs and styles are available. Shop with a theme and budget in mind. With enough time, patience and the right shop, you'll find the tablecloths ideal for your home.
Size
Make sure you pick a gingham tablecloth in the right size. Keep in mind that the cloth must be larger than your table. This might sound like a given but plenty of first-time buyers make this mistake. Make sure you don't.
Colors
Colors and hues can change the mood and ambiance of your living space quite quickly. White is often great for when you want your tablecloth to stand out. Match it up with shades of black and gray along with bold touches of color in your home and you'll end up with a picture-perfect sight for your dining décor. Want something much more playful? Explore bold and bright hues. Go for warmer shades. Love a beachy, relaxed and coastal vibe? Pick a teal tablecloth. Go for sea-green and cerulean blue tones. Have fun matching key pieces of your flatware to your tablecloth. You'll end up loving the results of those mix and match efforts.
Want dining décor to impress your guests? Pick a gingham tablecloth.